Design a cover for book about A strong 16 year old living before Noah's time defeats dragonian army in the Valley of Hin
Trophemus tuvo su nuevo portada a través de un concurso de diseño: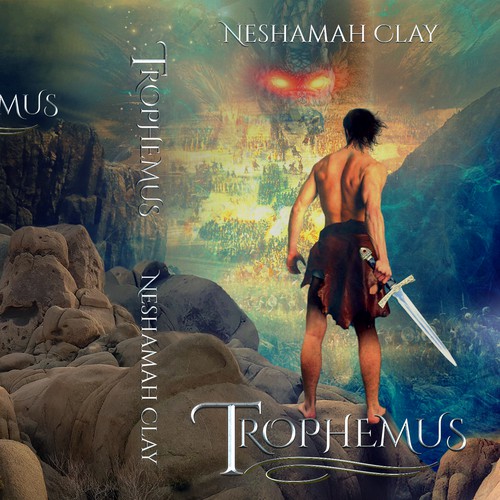 de SusansArt
Design a cover for book about A strong 16 year old living before Noah's time defeats dragonian army in the Valley of Hin
Hecha un vistazo al concurso de Portada de Trophemus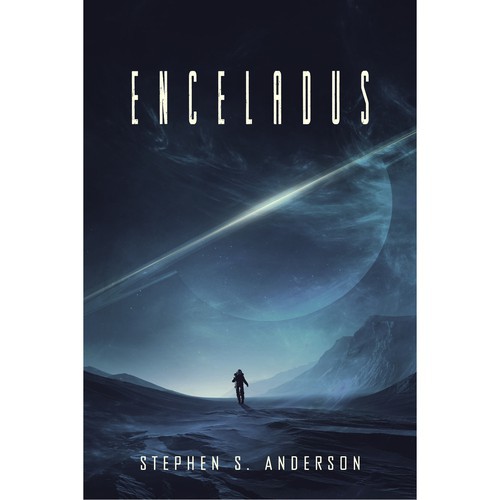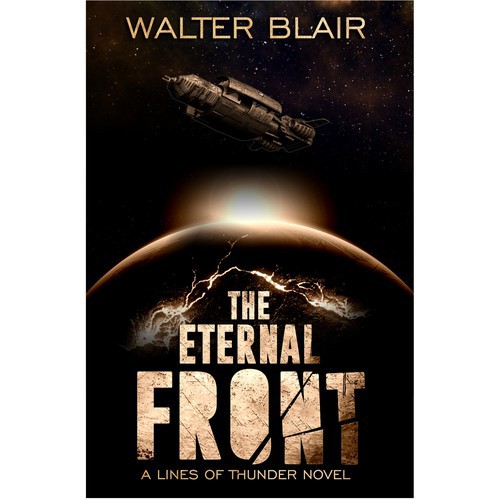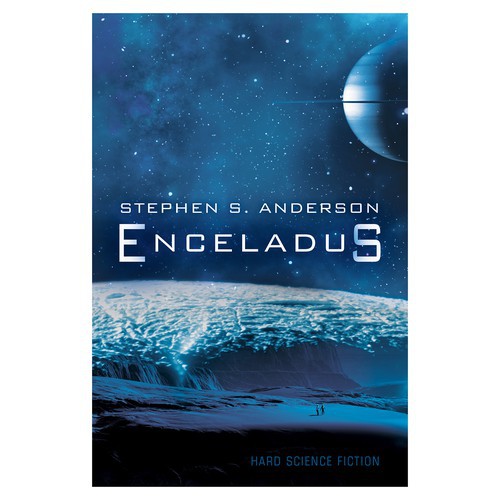 Trophemus Cover Description: Trophemus is a righteous young man. At twelve he discovers his secret place. God intuitively requires him to keep it a secret for two years from everyone. This he does not understand but as the book unfolds the readers will fully realize God's design for Trophemus mysterious life. His last time to visit his secret place at sixteen years old he discovers an upward entrance to the top of the plateau 1000 feet up which no one on earth has ever been. In his exploration on the plateau there are many unusual round boulders all around like they have been placed there by someone. As he explores on top of this plateau he comes to the one entrance to Tatonka. There is only one way into and one way out of his country Tatonka. After spending the night at this location he is awoke by the great noise of a great battle. While up here all alone the battle ensues where he saves his village but disappears mysteriously. I need a cover overlooking the Valley of Hinnom at the outside entrance to Tatonka. We need round rocks around the high plateau area all along and around the 200 foot ledge with a wiry, strong young man overlooking the alien army down below filled with evil men and a black slithering formation of archers moving through the belly of the dragon in the Valley of Hinnom which he will single handedly defeat in battle by launching the large and smaller round rocks and boulders down upon this evil army that is trying to enter into the Tatonkan safe citadel. The young man must be wearing only his loincloth because the battle starts early in the morning and gives him no time to dress. There is a ledge 200 feet long where there are many large and smaller round boulders. There are very many boulders. He uses his 18 inch sword to launch them down on the alien army trying to penetrate the one entrance into Tatonka. He launches these rocks strategically each time they try to move closer to the entrance. There is one special huge boulder larger than a house sitting in the center and right above the 200 foot ledge on this plateau overlooking the outside entrance. After keeping them out all day from sun up to around 3 pm Trophemus finally runs out of boulders to launch but when he is about to give up he focuses on the one huge boulder bigger than a house and decides to try to dig out around this monstrous boulder and launch it. He is successful and this large boulder when finally launched starts an earth quake which causes the tall cliffs on both sides of the Valley of Hinnom to landslide and completely destroy the alien army. So I need a cover with a strong young man in his loincloth standing with both clinched fists in the air. The view is from behind so we do not need to see Trophemus face. Standing on the plateau overlooking the evil army in the valley which has the shape and looks to him like a dragon. The whole army down below is filling the Valley of Hinnom waving banners and wildly shouting and looking up at their nemesis who is keeping them from entering into Tatonka. There are tall cliffs on both sides of the valley you can clearly see from the plateau where Trophemus is. As the army is filling the valley (which has high cliffs on the right and left) and filling up the valley near the entrance to Tatonka, this army has the appearance of a dragon. The supply line in the rear looks like a tail. The main mass of the alien army filling the valley looks like the body of the dragon with scales and then as this army narrows down to where the outside entrance into Tatonka is the whole scene looks like the tail, the body and the head of a dragon as the army gets thinner trying to enter the crevice entrance one by one. This army has the appearance of a dragon from his viewpoint. The tail, the body and then the head is at the entrance to Tatonka trying to get in. So I need a sixteen year old strong young man standing on the left of a large house size round boulder with his hands raised in the air (he could have his 18 inch sword in his right hand) and overlooking the army trying to get into the entrance to Tatonka down in the valley. This boulder is huge and massive. One more thing of importance is that there is a black slithering thing in the middle of this dragon shaped army that is slithering toward the entrance which he eventually realized it is the Velamors the elite archers of Paramora. There formation is 10 men wide and 60 rows long moving through the middle of the alien army to press through the entrance. These are 600 evil special archers. The whole scene needs to be very frightening and terrible looking down into the valley and Trophemus standing with clinched fists needs to be totally defiant against this evil army. From his viewpoint on the plateau he is 800 to 1000 feet high up on the plateau. Because of the sheer rock wall cliffs they cannot get to him except for these special archers moving to the front who will be able to launch their arrows up at him. Great imagination is needed here to accomplish this. I do not know any better way to describe what I want. I need help. Kind regards, John
12 to 20 year olds. Male and female. But some older people even senirs have read the manuscript and all have loved it.
Otros requisitos relativos al color
A bright red and turquoise colored sunrise would be great included on the cover but not required.
This is long but you can peruse through this and hopefully begin to understand what I am looking for. Sorry I do not know what else to do. This is a small section of the middle of my book. THE DRAGONIAN NOISE FROM THE DRAGON As he now considered all his options and had returned to his senses; he regretfully understood that nothing further could be done from his current location. He would jump the crevice gap and get back to the village. What else could he do from here? As he stood up he was still a little light headed and now knew he had slammed into the rock ceiling with his left temple. He looked in the little cave cavern and there was a protrusion on the ceiling that his left temple had slammed into. The pain was still quite severe and with a long run ahead he better take some water. He drank slowly and restrictively because of his need to preserve water for the long distance he needed to travel to get back home. He may not even have a home anymore! He would never arrive back in time to participate in this battle. Trophemus now realized that the real noise of this battle was not coming from inside the walls of his village. There was an enormous amount of noise coming up from outside the gate from the Plains of Hinnom. He better slip around the small lip of land where his rock garden was and get on the other side to see what this draconian noise was and where it was coming from. He came around the lip and the noise grew much louder. Then he saw the body and heard the vociferous noise of this dragon attacking his village. It even had genuine resemblance to a monstrous dragon. The Plains of Hinnom were filled with a dragon army. That is all he could see before him. A dragon! The plains were filled for many square miles and miles with a great and magnificent army of angry men and to him the shape was the shape of a dragon. It literally looked like a monstrous dragon. There must have been no less than 6,000 and could have been seven to 8,000 men in battle array spread across the Plains of Hinnom. There was a long tail of a supply line and then thousands of unstoppable alien soldiers gathered, awaiting their chance and time to creep through the crevice and join the alien army trying to survive within his village walls. As the plains narrowed and came up to the narrowing entrance area which made this look as a dragon; the head, the body and the long tail of a dragon. The monster was here. He was not fully inside the village yet but he was pushing with all his might to get in. He needed to access the situation soberly. He now intensely perused the front of the battle line near the small crevice entrance. His view from here was fantastic and the magnitude of the scene before him completely laid hold of his whole being. Look at all these round rocks! I will launch them down onto this dragons head. With only his undergarment loin cloth around his waist (for he had not had time to dress neither had he even thought about it) he scurried around the lip and grasped his sword and rushed back around to his rock garden. His sword was needed to launch his missiles. Now he found a rock of small proportions wanting to find his aim with his first launch. As he thrust it over the edge he gave out a screaming wild shout and held it as the round rock careened down into his nemesis current domain. Trophemus threw his fists into the air and glared at them now with all his might! He yelled as loud as humanly possible as he gleefully watched his weapon heading down to its target. The head of the dragon at the outside entrance of Totonka was going to get pummeled. All the men in the plains had become quiet and were now looking up in his direction. He had shut the dragon's mouth and now by any means possible he would stop it from getting into his village! As they all gazed up in great surprise and became completely silent almost miraculously it made him happy. Something was raining down destruction on their army. The quiet made him so happy that Trophemus instantly decided he would shout right into what now seemed like an everlasting silence down in the Plains of Hinnom. He shouted a shout into what had seemingly become a perpetual silence where the whole alien army was stone quiet and gazing up at this threat from above. With one small rock he had shut the mouth of this beast. With his practiced penetrating voice He shouted slowly and powerfully with fists for hands raised high over his head, "I will kill all of you! Leave my village and my people. Again he rang out the words, "My People" and held first the word my and then people for a long time. He said it and he planned to do it. Now that he had their full attention he gleefully launched another larger one down into this abyss of an army. And this one picked up a few more rocks than ever as it went downward. He could not see clearly how much effect he was having but he launched another and another. Let my round garden rocks do and go where they will. I will kill them all if I have to fly down there and land in their midst. Rock after rock was launched at the crucial time when they would start moving back into the crevice entrance. He did not launch indiscriminately. Every launch was strategically placed when they would try to return into the crevice entrance. This dragon was not getting into his village! He now yelled down to all of them, "This was Trophemus up here on the plateau! Not a scared rabbit! You should all run far away before it is too late!" Now the shouting returned down in the Plains of Hinnom. Then he heard a ping on the rocks around him here and there. Not real close but close enough that he heard a slight ping now and again. He stopped launching and took a long look into what had now to him become the abyss below him where the dragon was hiding from and hoping to stop his round rocks. As he gazed soberly he saw the alien enemy men up close to the crevice small entrance had pulled back. His rocks had stopped those trying to creep into his village one by one. Only a few archers were up close now alone and launching their missiles high up into the air over him and then their arrows once completing their high arch traveled back downward with the intention to stop his effective round rock missiles. He now could see a black disciplined formation of some kind moving up toward the entrance from the rear. They were too far away to tell what kind of soldiers they were but they were a highly disciplined unit. The whole alien army was now all giving way to the shinning black formation seeking a passageway for them to pass through heroically to the entrance into Tatonka. All the soldiers moving aside were shouting, waving their shields, spears, swords and lances in the air as the black snake unafraid with the heart of a lion pressed gallantly onward toward the entrance. The black moving object was in perfect battle array; ten across and around 60 soldiers long moving as if nothing could stop them. There were around 600 of them. Many banners from all the alien soldiers spread all over the Plains of Hinnom for each dreadful division were waving in the air. It was a marvelous and magnificent spectacle he was beholding. Trophemus awoke from his mesmerized condition. He now again took more time looking over the edge. He saw many men lying around in the rubble of what his mysterious weapons had created. There could have been as many as 200. It made him happy. That was 200 evil men that had not entered into his village. He was fighting for the most peaceful people he knew of on earth. This dragon was too much for his people. Now he understood completely how some older men had talked of when the time comes and your people are attacked you have no choice but to fight. All options disappear. They were retreating backward in hast. He had killed many, even hundreds. But the main thing was he had stopped those trying to enter the crevice and get through the gate into his village. If he could hold them off long enough the Tatonkans inside would be able to push the others back out of the gate and shut the gate to his village. This is all he could hope for. He had to stall the draconian dragon on the Plains of Hinnom; but now he was running out of round rocks. Pausing and looking over the scene he observed the solid black menacing creature still moving forward within the belly of the dragon getting ever closer to the entrance. What truly to him from his position high above looked like a black snake slithering through the beautiful Plains of Hinnom which had now become the belly of the dragon. This black slithering beast definitely had its full attention set straight forward toward the narrow entrance into his peaceful village. The black and relentless battle formation came on and on while those alien men in its way moved aside quickly as this beast slithered toward the entrance gate. It was a finely defined slithering beast. The frightening scene shocked and aggravated his whole being. What was this thing that was now coming after his people? The slithering, shining black snake was now getting closer and there was a large square which he now fully realized was there king and his chosen and perfectly trained to kill body guards and most confident and loyal soldiers among his army. These personal body guards were a fighting terror to any who would dare trouble their king. They would kill and obey on command. The king was rallying his troops. He would not allow retreat. He must force his troops to press on through into the village. His intention was to steal, kill and destroy. This evil king would never retreat. He knew those inside were weaker than his army. His intention no doubt was to slaughter everyone in Tatonka and take this citadel as his safe haven for destruction and evil at the times and places of his choice. The goodness in Trophemus now welled up vehemently into a fever pitch. He would find a way to kill this king! Then he watched in wonder as the black snake moved forward boldly in seemingly perfect harmony and then the light dawned on his mind of what he had heard about the black armored Velamors. This was the king of Paramora before him on these plains pushing forward to destroy the Tatonkan nation. The Paramora nation was the reason they had built the stone gate to guard the entrance. This King Morroco had trained up wild and evil warriors who would destroy whole villages and nations so no one could ever retaliate. They would leave none living in Tatonka. The Velamors were the elite archers of Paramora. The oldest men who had fought and new of these elite archer's had told them the gate was officially built to keep out the Velamors from Paramora. They had special armor but most of all they had mysterious strong arrows that at close range or far away could penetrate 6 inches into any man made armor. If they ever entered into these gates we were doomed. How had the Tatonkan gate been penetrated? I must kill them all. He thought to himself again and again. I will kill this king and his Velamors. I need to bury this army once and for all in the Plains of Hinnom but I am out of rocks to launch at them. But the snake was not empty. The Velamors surely had plenty of arrows and must be stopped. The black snake had not even begun to fight. The snake slithered forward with the king driving them from behind. The whole army around the king and the shinning black Velamors were all giving way swiftly so this slithering black snake could pass through to be the hero, to be the answer to allow their army to press on into the entrance into Tatonka. The whole army was shouting, waving their shields, spears, swords and lances in the air as the black snake unafraid with the heart of a lion pressed gallantly onward toward the entrance. The whole Plains of Hinnom were in a total and complete eruption of noise and mayhem. The black snake now took on a life of its own. This king pushing his black slithering Velamors would never be stopped. How beautiful and majestic this valiant and steely powerful black serpent formation was in the Plains of Hinnom. All the soldiers over all the Plains of Hinnom with their banners for each dreadful division were all together waving them furiously in the air. They were all shouting, screaming, dancing, stomping creating the loudest, wildest noise possible. The tumult was too mystifying and yes it was a marvelous and magnificent spectacle he was beholding. He had become consumed again by the great spectacle before him in the Plains of Hinnom. Trophemus awoke one more time from his mesmerized condition. This scene was too majestic and too mesmerizing and he too was a part of this scene. He must do something. He especially must and would kill this king who was driving this black snake. He screamed at them as loud as he could and waved his hands wildly in the air. He desired all of them to see him. He wanted them to pay all of their attention to him. "I will kill you, your king, and your slithering black Velamors! You will never enter my village"! Now it dawned on him the whole alien army in the open plains were looking upward toward him and they were screaming wildly as if to put a curse on him. That only energized Trophemus. He was going to curse them all! As he watched the Velamors began to form up into a large square formation about 60 feet wide and 15 rows deep. He estimated clearly that there were about 600 of them. It was more of a rectangle down below and not a square. Their objective was to find his range and kill him; their nemesis. They stopped pressing toward the gate entrance. They were just outside the area the rocks had been reaching to do their destruction. They did not intend to come in there. They knew not that he had no more round rocks to launch at them. The whole army was staying back not able to enter. It is a good thing that he had stayed and danced around yelling at them. They felt they must kill him before they continue with their attack. No rocks available to push off so he danced around yelling wildly hoping to distract them for as long as was possible. Now his only weapon to stall the alien army was deceit. They knew not he was out of rocks so he ran back and forth along the smooth 6 foot wide, 100 foot long ledge jumping up and down, dancing and waving with great enthusiasm! All his round rock weapons that had been placed by God or some giant were now spent. They had all been so useful to him. Now a rather small but strong 16 year old man was holding at bay an alien army, a monstrous dragon from the use of his secret place. He was holding at bay; King Morroco, the Velamors and the whole Paramora army! Maybe he should have told someone else so he could have had help. It would be so good to have Tychicus and Kelphrey with him today. Even Schrum would have been beneficial today up on this plateau. But it was not to be. These brave men were down in the very front of the wedge pushing their enemies into oblivion while he held the dragon at bay in the Plains of Hinnom. They would do their job inside the citadel. My job was to keep this dragon at bay outside in the Plains of Hinnom. Keep this dragon out of my gate! Those black snake Velamors who had formed up into the large rectangular square had completed their formation. What could they be doing? Then they launched their six hundred or more arrows into the air from their perfectly formed black rectangular square. Trophemus could tell the arrows were not coming his way. As they arched and began their descent they whistled loudly and surprisingly produced a shaded area on the ground as they came down. They landed in unison near the same time more than 200 feet away from him but this time the sound was not a ping but a loud frightening disturbance which caused the ground to shake. These were no common arrows. They were so heavy the noise was horrifying yet they traveled so far. They were going to adjust their aim each time using the last arching shot to judge the next shot until they zeroed in and destroyed this thing resisting them on the plateau. Trophemus knew his time of dancing around and distracting this invader was at an end. His round rocks were spent. There was not one round rock still available. He could not just stand here and be killed. Then they launched again and the arrows ended up 100 feet away. After two or three more times they would have the range. He thought I will go back around the lip and see how we are doing in battle inside the gate. He was right in the very middle of the long flat 100 foot long appendix edge of walkable earth that he had walked up and down upon dancing and mocking the enemy and launching his missiles all this day. As he turned aimlessly to go back to the other side feeling totally depressed and exhausted; there was nothing more he could do here he then focused directly on the enormous house size almost perfectly round boulder. He stood perfectly still gazing in awe upon the monster boulder. What kind of a monster was that? Then he heard once again the loud, frightful hissing sound of the arrows coming down and he jumped under the cover of the edge of the large rock. They had not found the exact range yet but they had come closer. As he lay under the covering edge of this wonderful monster missile he began to joyfully smile and laugh out loud. The way they were launching their arrows they could not touch him under the edge of this rock. He thought he had no safe place to hide but here he was squeezed under the edge of this monstrous creature of a rock. He saw no black shade from their heavy special made arrows and heard no hissing so he ran and grasped his sword by the handle and dashed back under the edge of the big rock. He was still in only his loin undergarment he had slept in. It was past the high time of the sun and now he rested silently for a few minutes dreaming of better days with family and friends. He was so tired. No food, only a small rationed amount of water first thing this morning and then he had been fighting this dragon in the plains half this day or longer. Where the sun was it could be two or three in the afternoon. Not a bad day's work for this 16 year old Tatonkan. He caught himself. He had lost focus again. The village was under siege. Just because he was safe from arrows this was no time to rest. His tiredness, hunger and thirstiness had tricked him. A little dehydration may be coming upon him. No water all day during this battle. The army was still in the valley down below him. The shade in the sky from the arrows had subsided. He had heard no hissing arrows streaming down toward him. He walked over to the edge boldly looking down into the abyss below. He had been facing this giant dragon all day long. He needed to see if the black snake in its belly was moving. It was moving toward the entrance gate. He yelled and waved. They formed up again and launched upwards to find the range again. He now dove under the large bolder. It dawned on him fully that under the edge of this large boulder he was now safe from the Velamors arrows. He sat there quietly safe under this giant monster of a boulder bigger than a large house. He began to consider how it was just sitting like it was hoping to find a way to get free. He inspected all around the base that was restraining this giant boulder. He thought to himself. What if I dig out around the base and release this giant? I might be able to do this. There arrows have found my range but I am safe under the edge of this boulder. Let me use my large, strong sword and dig away this debris holding this monster and release it onto my enemy. He took another long look down at the army in the valley waving and yelling so they would know that he was still up on the plateau. No more rocks were falling even though I was obviously still up here. The Velamors were now moving up to get through the crevice first. They had now understood that no more rocks were coming down the cliffs. He got his sword and rushed back to the base of the missile of destruction which he would die before he would let that rock remain where it was. Those Velamors would never get into Tatonka as long as he was still breathing. After I get this rock to launch I will throw myself at them if I have to! Realizing I was still up there about half of the Velamors began to launch arrows up while the bulk of the rest were heading to the crevice entrance into the village. Arrows landed all around him but he was under the edge of the great rock and none struck him. After each set of arrows landed around him he jolted out and began to yell and wave again and then jumped back under the rocks edge digging franticly! Anything to keeping as many of them as I can from moving forward and entering his village! He was beside himself to set this monster free now; because they knew no more rocks were coming and they were definitely again moving into the entrance crevice. This missile of destruction must be launched! If he did get it launched the boulder was probably going to roll over him, but he dug heavily all down around the far side and through the middle removing the debris that was holding the giant in place. There was much more to dig out than he had imagined there would be. No wonder this monster rock was still here. He was so exhausted now! He had been digging for over half an hour and the rock was not moving. He prayed with his whole voice as loud as he could, "God help me!" Instantly the monster rock right on top of him slipped an inch. But it was still being held back. He moved to the side of the rock nearest the lip and dug with all his might. There was an area there that obviously needed to be dug away. And here was his best chance to escape the falling rock. Live or die he must make it launch. Now he looked ultra-carefully over the whole base and it became obvious to him that in the middle there was an area holding the giant in place. He had no choice. Live or die he moved to the center and started digging with all his might. He was in the very center digging away with all his remaining strength. He saw a somewhat large stone that looked out of place and he realized that stone was the thing he needed to remove. It was directly in the middle! That might be it! Then she would launch. But he would not make it out. Not a chance to make it out. He dug as he had never dug. He dug with strength and honor in his soul. He was ready to die. No fear in this soldier. He would give his life to destroy this peril to his people. He would hold them back as long as he could breathe! He would stop up the crevice down below! They would never get in! Last time he had quickly looked the king and his square formation of body guards had moved up very close to the entrance to display to his evil army that he was not afraid. This large rock could very possibly land right upon him. It broke free and slipped down about 4 inches all at once. Then the rock monster began to tumble forward. Even though it was moving ever so quickly to the edge where it would travel down to his enemy he dashed away with the speed of a gazelle and came free off to the side as the great bigger than a large house size boulder rolled beautifully and majestically onto the flat area where he had been marching back and forth mocking them. Now the boulder seemed to stop completely but no it was still barely inching onward toward his target. No it cannot stop now! Looked as if it was going to stop right there on the first ledge. Trophemus ran up and pushed on it yelling, "You have no right to remain here! You have a job to do. Save my people. Get off this plateau and attack those evil men in the Plains of Hinnom! Go monster go!" The giant monster inched along ever too slowly with Trophemus pushing and yelling at it all the time and then it just rolled right over that edge like the awesome, splendid and glorious monster it was. Trophemus was more than beyond joyful! He watched the huge stone gallantly pick up speed going downward swiftly and then it hit another protruding large ledge which caused it to launch high into the air and all below could clearly see it coming their way. The dragon's mouth was now shut. No more noise in the Plains of Hinnom. They were all mesmerized by the stone of destruction. They would be ground to powder. As it seemed to be floating downward as a dream so slowly it then landed on a huge 300 foot long ledge and seemed to stick right there. When it hit it was the loudest noise he had ever heard and it seemed that all the Plains of Hinnom were shaking. But no, it was not stopping; the whole 300 foot long ledge began to crumble! It was pressing onward! The earth all around in the plains, the valley, and the straight cliffs on both sides of the Plains of Hinnom were now vibrating and shaking wildly. No time to watch this. Whatever happens will happen now! The sky became black with complete shade right above his location! The arrows were streaming down on him. He must flee for his life back to the other side and dive quickly into that little cave where he had slept last night. The Velamors had gotten off one final arrow shower towards him. This time they all definitely had the range. He escaped the boulder but would he be able to escape the Velamors last gasp effort to destroy the mysterious beast, the man, the phantom or the God who had tormented them all this day from its perch on the top of the mysterious plateau.
Let your imagination fly! I need help!
Toda categoría de diseño tiene precios flexibles para todos los presupuestos. Portada comienza en $299.
Todo comenzó con un brief de diseño.
Una guía rápida e interactiva le ayudó a comprender su estilo de diseño y capturó exactamente lo que necesitaba en su portada.
Diseñadores de todo el mundo presentaron su magia del diseño.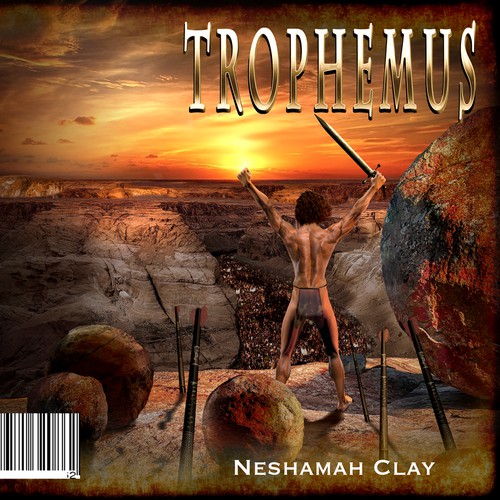 Obtendrás muchos conceptos de diseñadores experimentados de todo el mundo.
Trabaja con diseñadores talentosos y profesionales en Portada para convertir sus ideas en realidad.
Selecciona tu Portada favorito (¡o dos! ¡O tres!). Y el diseño es todo tuyo.
Trophemus colaboró con diseñadores para refinar sus ideas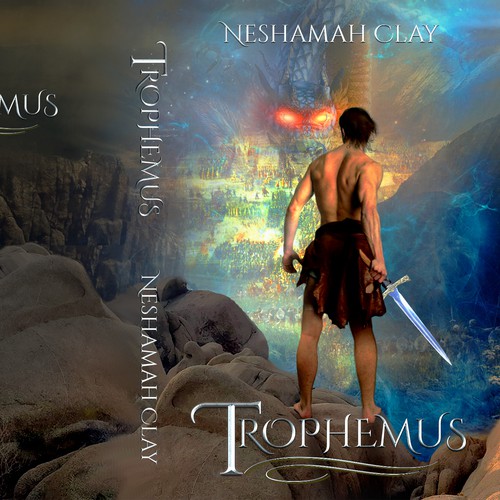 Califica los diseños
Cuando entran las entradas de diseño, puedes calificarlas para que los diseñadores sepan lo que estás buscando en el diseño de tu logotipo.
Aporte feedback
99designs tiene excelentes herramientas de colaboración para que puedas identificar y capturar tus ideas
Y luego ... ¡seleccionaron un ganador!
Evaluaciones del cliente
Designer responded excellently to brief & feedback
Anónimo
En el camino, se encontraron con muchos diseñadores talentosos ...
Creemos que los concursos son una forma súper divertida de obtener diseño.
Concursos terminados recientemente:
Mira otra inspiración de portada