Low High - Pop Punk / Punk Rock / Hard Rock / Hardcore NEW ALBUM COVER!
lhrockmusic tuvo su nuevo otros diseños a través de un concurso de diseño: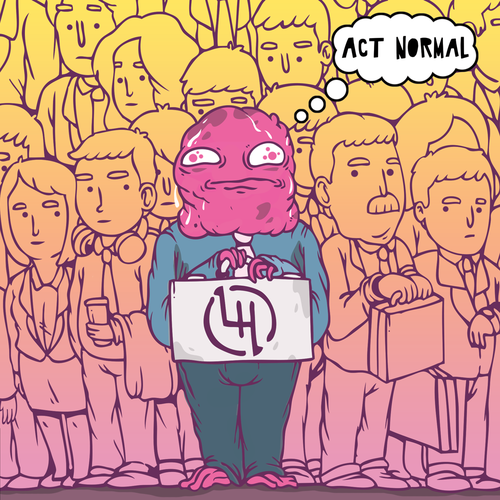 de ArdieAquino
Low High - Pop Punk / Punk Rock / Hard Rock / Hardcore NEW ALBUM COVER!
Hecha un vistazo al concurso de Otros diseños de lhrockmusic
Entretenimiento y bellas artes
We are a punk rock / pop punk / hardcore / hard rock band, and we're working on a new record. Facebook: www.facebook.com/lhrockmusic
Our next record, will be called "Act Normal" and it's about being yourself, no matter what. It turned out being a little bit about going against the ordinary as well. All of the songs are connected to real life experiences, going through subjects as love, growing old, responsibilities, and holding your ground. It's basically a pop punk album, but there are some indie moments, some hardcore tunes, and some hard rock too. First we need a good cover, that could express what the album is about, and a back cover. We had some ideas ourselves, but we're not so sure about them. Like... A drawing of person with a prom hat, and the diploma, but with a sad face, as if he didn't really want it. A person walking the opposite direction of lots of other people. Some ideas like that. But you can come up with something totally new, feel free to express your own ideas! After the cover and back cover are chosen, we will ask you to do the rest of the insert, including lyrics and stuff, and a cover for our facebook, twitter and instagram page based on the art you did for the album, just to create some identity for what we're doing. We'll give you all the information necessary, and our LOGO, so you can work on the idea of it, and optimize it, if you feel like it's necessary. There you go: Name of the record: Act Normal Name of the band: Low High Back cover information (you can organize it as you will): 1- Act Normal 2- Alex Is Alright, But I'm Not That Bad Either 3- Humans 4- Time 5- I Don't Wanna Be A Fuck Up 6- Give Yourself A Chance 7- Say 8- All My Fault 9- Hide From Me (Questions And Answers) 10- Unprepared 11- Caffeine 12- I Know It Sounds Hypocritical, But I Don't Care (Because I Hate You) 13- September 14- Riding Free All rights reserved. Facebook / Twitter / Instagram / Snapchat / Soundcloud; @lhrockmusic Produced by Davi Pacote, at Hill Valley Studios Mastered by Jason Livermore, at The Blasting Room _______________________ Other information (organize it as you will): Low High is: Luke Mello Julio Fagundes Zed Cerqueira Felipe Guimarães Cyro Soares -ACT NORMAL- The lack of care and comforting There is no song heavy enough for me What got me through in the past is now what I do I gave everything up to be here screaming at you My parent don't Get what I'm doing They think they screwed me up They disapprove this but, fuck (You know what? A lesson learned With my time I do what I want Because I will only live once I'll make the difference) And when I die I'll be happy to be leaving my mark Spent many nights hiding in the bathroom Hitting the walls, screaming in silence When all the anger I had became what I am I started to feel alone in the world I created And my friends can't Ever get me They won't understand I am not like them, but fuck () And when I'm gone I'll be remembered by everyone Act normal, they say... But what is normal anyway? Nobody can blame me for being like this, you'll say I'm crazy but fuck you!!! You are a piece of shit like everyone here _________________________________________________ -ALEX IS ALRIGHT, BUT I'M NOT THAT BAD EITHER- You say you're nothing special I say you're out of this world Why can't you see what you mean to me? I say "Descendents all the way" You say "become an All Time Low fan" It doesn't matter, I love you anyway -I can't really tell you the truth I might never want you to know Despite this song You'll never listen to- (I want you, I need you You ease my heart Coffee won't soothe me like you do It's not your fault But I'm in love with you) You say you're problematic I say I'll make you happy Throw all questions and answers away I say "fuck distance", I'm okay With wasting money on buses and planes I'll travel anywhere to be with you, babe -- () + () _________________________________________________ -HUMANS- Here comes the weed smokers on facebook saying "Coffee is a drug too" Do I look like I care? Because I don't Mind you own shit, being judged is Normal Here comes the feminist on facebook saying "Men are stupid" Oh, but it's not just men, it's all humans I don't mind, you say I'm blind, but Fuck it (We're all together in this, it's dumb to divide people), we need more peace And love, that is all we need Here comes the right wingers on facebook saying "left wingers" suck What's that facebook war for? I bet you don't know While politics still run everything (), WE'RE JUST ONE PIECE OF SHIT Get out of facebook and take the streets! + _________________________________________________ -TIME- I'm tired of sleeping Tired of living without you here I'm losing my senses You are the greatest thing that I feel (And I need help Only to stand straight And I want this Pain to go away Sometimes all I Wish was to go back in time This time ain't right) I told the housekeeper Don't let these pictures get old and fade My soul can't be quiet My body can't respond to this revenge () +solo+ I'm now an only son My tears won't come out I can't even drink, too old I live memories of life Time to say goodbye Time to say goodbye I'm sick of the tv I'm tired of living Go back to sleep _________________________________________________ -I DON'T WANNA BE A FUCK UP- I don't wanna be a fuck up I never meant to go towards perfection I've always inched closer to go harder and faster I've never meant to be part of majority But sometimes it seems that's how life's meant to be (I don't wanna be friends with you I don't wanna do the things you do I don't wanna spend the weekend high Alcohol and acid, drugs suck, marijuana, fuck off, can't you just give up? I don't wanna be a fuck up, that's what you are I don't wanna be a fuck up) I never thought about what you call life's mystery I've always thought that's it, society and misery But I never meant to be such a pain in your ass In any way, in any way That's why I never tried anal () I don't wanna be a fuck up, yeah I don't wanna be a fuck up!!! Alcohol and acid, drugs suck, marijuana, fuck off, can't you just give up? _________________________________________________ -GIVE YOURSELF A CHANCE- What's going on? You look so sad and low Please wait, don't go I know it kind of sucks being here With people who can't see how dumb this is They look so great Drinking all the money they can pay Though most of them are not being real They still get all the girls that you love I know how you feel You don't know what you're doing here (Give yourself a chance, just dance Forget about the people you can't stand Let them with their bottles and their stupid girls You don't really need So get up and let your heart breathe a bit) If you want to we can leave Find a place with some real music Cause this is really stupid and confusing What's the point of dancing when All the songs sound the same? Just let them be I know exactly what you need ()x2 Stay still and hold your ground Peace's nowhere to be found They're not gonna fit with you And you don't, you don't, you don't need to fit with them too () _________________________________________________ -SAY- Say you're in love, and I'll know that I'll be holding you close Say that you want me as much as I want you And I'll make sure that I am worth it Say you know nothing at all about where we are now And I'll try to light the way to our future Show you where we're going is not that far away So don't be afraid (Cause love is something in what We should believe with our lives will never go away If we keep being afraid we might never Get to have another chance Love is bigger than we could ever think And it's what always brings us up So if you love me, then please say something Don't let it fade with the time We're gonna fade away) Say that you're not afraid to feel anything And I'll make the best I can to make we grow into something more than friends I've been talking about this for a while now One more song and I swear I'm gonna make a whole album about you And put your name on it So you can never forget () We're gonna fade away... We're gonna fade away... You're the one I want and that's for certain I'd give anything for you to let me in () _________________________________________________ -ALL MY FAULT- She gave up on me, and I deserve it Cause I've been a jerk all along The time that we had, now she looks so sad But she swears she's better this way The look in her eyes now makes me feel like A waste of flesh, a waste of life And maybe I am, but I won't give in Until I get her out of this again (All my fault I fucked up it all Lock me up at home All my fault My eyes feel so small I had it all perfect Perfect for us I fucked up it all) She gave up on me, and I deserve it Cause I couldn't be better than me While she did her best, to make our love last She felt like it wasn't being Enough, but I've never been happier Never been happier than that She changed for me, what I couldn't see Who needed to change was me () What are we made of? Don't let this break us What are we made of? Don't let me break us What are we made of? Don't let this break us What are we made of? Don't let me break us () _________________________________________________ -HIDE FROM ME- Every time that I look at the mirror I start to think about all that I've lost And I hear a voice inside my head You should forget the past I'm feeling weak, this fear is haunting me I can't escape my own reality I'm freaking out, I lost all clemency What is wrong with me? The heart that's left uncovered Stays cold until it finds another (Hide from me, it's clear This time, I made you cry again So leave me If I find a way to talk to you I'll screw things up, you know it's true Don't say that this will last forever If you know that I just can't get better So hide from me, it's clear this time I made you cry again Just leave me now) Every time I look at my feet I think I've been for so long stuck in this routine Will I grow old feeling the same things? Am I stuck in a dream? Worst than a nightmare, everything's so numb And growing up feels like drowning in mud Responsibilities suffocate It's making me insane -- () I need something to get me through Give me objectives filled with pleasure This is the last thing I will ask of you Give me a question without an answer + () _________________________________________________ -UNPREPARED- Have you ever felt like it was the end of everything you know? Have you ever dropped a tear that wasn't cried by anyone? Have you ever tried to quit your life, and sleep until the day you die? Well, we know that one day you have to wake up (I don't mind if you're still here And I won't mind if you leave Is there something you wanna prove to me? You can't make things better So I find my sore eyes opening, but I'll regret it It's too late, I'm a freak, left sick and unprepared) Have you ever thought about the way the past gets on you everyday? Can you pretend you are here? Can you see things straightly clear? I've lost the meaning of being the way I've always been No personality, all my fears are fading And as I throw away all of my dreams, I repeat understatements () Don't sing along to this song Don't waste your time, get things done Don't live someone else's life Don't let me hold your insides You're gonna lose your own faith Only because I lost mine + Have you ever felt like it was the end of everything you know? Have you ever dropped a tear that wasn't cried by anyone? _________________________________________________ -CAFFEINE- Caffeine is rushing through my veins I really need to get the fuck out of here!!! I'm feeling good I'm feeling fast Faster than life I run, I think, in a short time I do the things that I should Have to ALL is an endless quest, just do the maths Sitting in this class makes me wanna get up and get the chair Throw it to the fucking board And run a-way And I'll probably do so. _________________________________________________ -I KNOW IT SOUNDS HYPOCRITICAL, BUT I DON'T CARE (BECAUSE I HATE YOU)- I sit there with my toys set Nineteen, am I grown up yet? I set the fire now it's all checked Let it burn, let it all burn B-b-b-burn You waste your money on a six pack That won't last until the sunset I'd spend mine on all kinds of crap But I won't waste it on trying to be fucking rat like you Like you, like you (You're not better just because you think you're cool I'm not stupid, just because I'm not like you) Sex and drugs, but no rock n' roll The worst of music for your stupid show You bought weed for your friends to roll I guess you really like the fact that there are tons of you Like you, like you You're not better just because you think you're cool -solo- ()x2 _________________________________________________ -SEPTEMBER- I don't want to write another song About a girl who's come and gone Who I said that I'd protect until my death And then I saw you going home I know I am completely dumb But I'd do anything to see your smile again (I'm sorry But I am not the perfect guy That a girl Like you deserves, let's forget this And write Another page together I swear to you I will make this last forever) What's the point of money and fame If my motivation is not the same And I am the only one to blame Today I stopped and thought about How my life is right now Because you are the only one that I Can't live without ()x2 (I'm sorry But I am not the perfect guy that a girl like you deserves Let's forget this and write another page together I swear to you I'll be by your side forever) x2 A year is not only September _________________________________________________ -RIDING FREE- My name and yours, together forever I let you in as soon as you knock on my door You're in my insides, you'll never leave my heart As I try to trace the lines of your face With my eyes closed, we kiss so slow But time is running out too fast I'll skip whatever comes to make it last Do whatever you want to Just make sure you are true to me I promise I won't leave Cause I need you here (Say that everything's okay As long as we can lay in bed At night, without being mad at all And whenever you fall Remember I won't let your hand Don't matter what happens I'm always gonna be your friend) We'll trave round the world Life is just me and you We're gonna do whatever we want to do I'll be by your side, staring in your eyes That's how it's meant to be Everything's full of shit But when we're riding free We can be king and queen We're the reason to believe We can make our dreams become real I'm really doing the best I can I mean it () solo ()
The record is being produced, so if any changes happen through the recording of it, that will be told to all of the artists. Any questions, just ask! Oh, the record is a pop punk record, so the art is not supposed to be too dark. But it's also not super happy, it's really balanced. There is rage, love, and sadness. The cover should be able to express it as a whole, so think about the concept we talked about back there, and do your best :) You DON'T NEED to use the logo. You can use it, if you want to.
Toda categoría de diseño tiene precios flexibles para todos los presupuestos. Otros diseños comienza en $299.
Derechos de autor completos con archivos listos para producción para impresión digital y / o impresión.
Todo comenzó con un brief de diseño.
Una guía rápida e interactiva le ayudó a comprender su estilo de diseño y capturó exactamente lo que necesitaba en su otros diseños.
Diseñadores de todo el mundo presentaron su magia del diseño.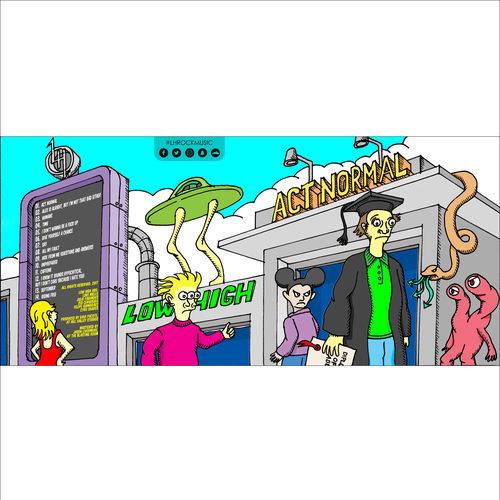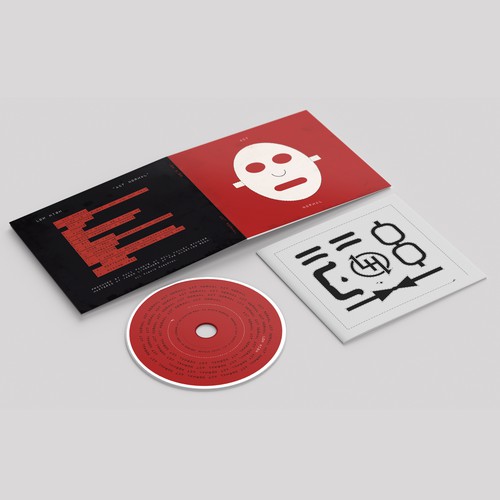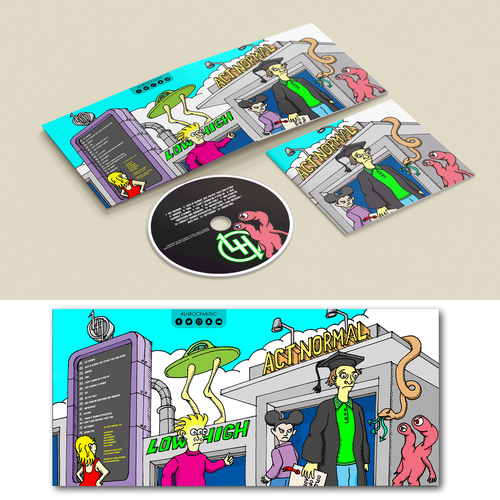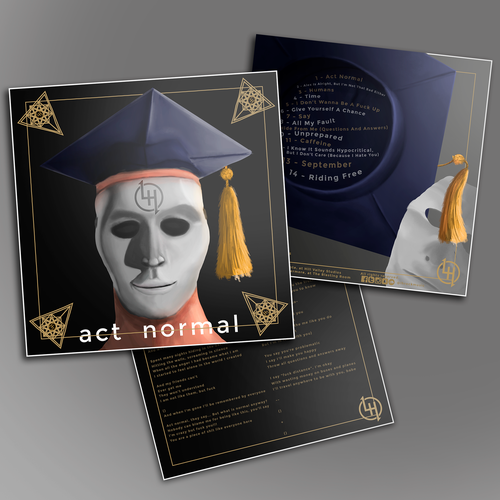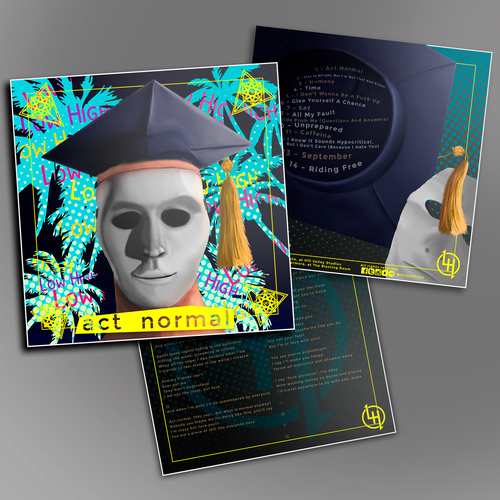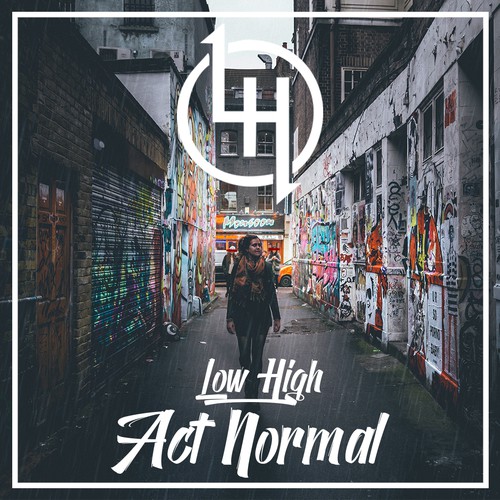 Obtendrás muchos conceptos de diseñadores experimentados de todo el mundo.
Trabaja con diseñadores talentosos y profesionales en Otros diseños para convertir sus ideas en realidad.
Selecciona tu Otros diseños favorito (¡o dos! ¡O tres!). Y el diseño es todo tuyo.
lhrockmusic colaboró con diseñadores para refinar sus ideas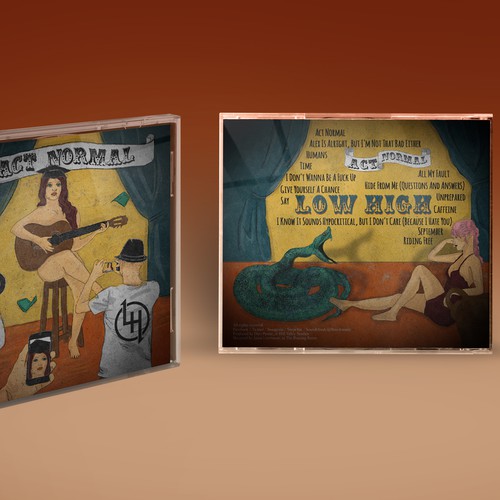 Califica los diseños
Cuando entran las entradas de diseño, puedes calificarlas para que los diseñadores sepan lo que estás buscando en el diseño de tu logotipo.
Aporte feedback
99designs tiene excelentes herramientas de colaboración para que puedas identificar y capturar tus ideas
Y luego ... ¡seleccionaron un ganador!
Evaluaciones del cliente
Great design! You will love their work.
erik.m.hoffman
En el camino, se encontraron con muchos diseñadores talentosos ...
Creemos que los concursos son una forma súper divertida de obtener diseño.
Concursos terminados recientemente:
Mira otra inspiración de diseño de entretenimiento y bellas artes