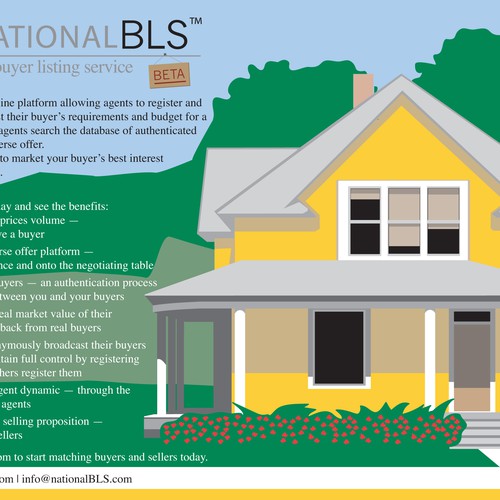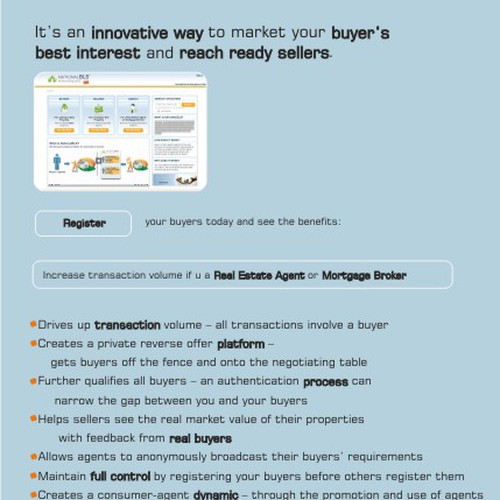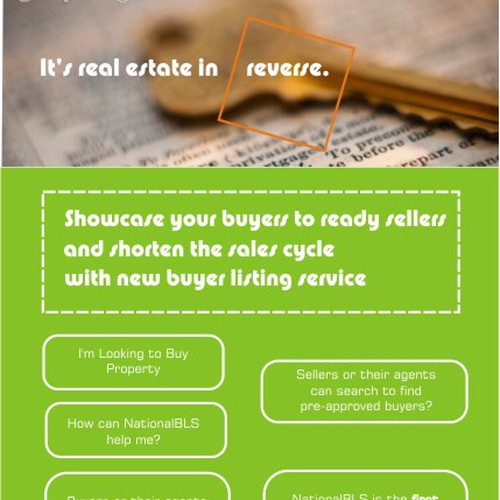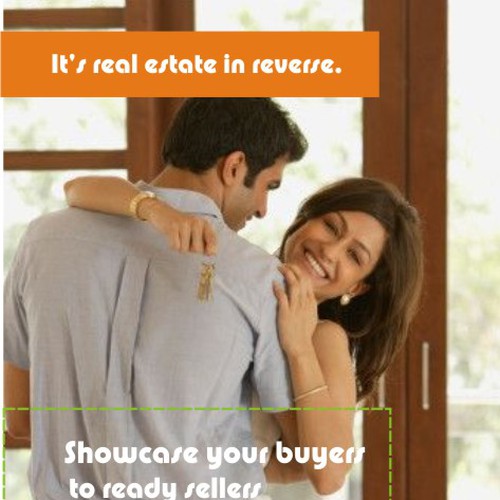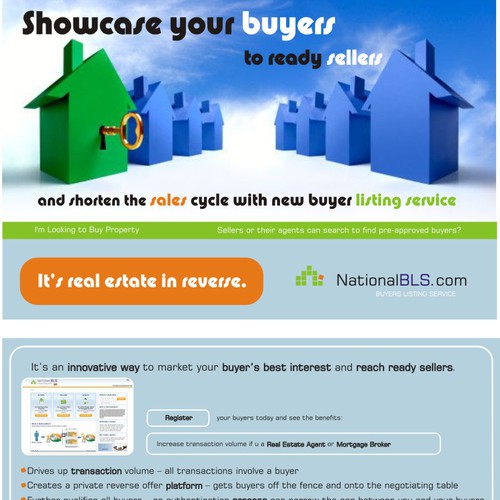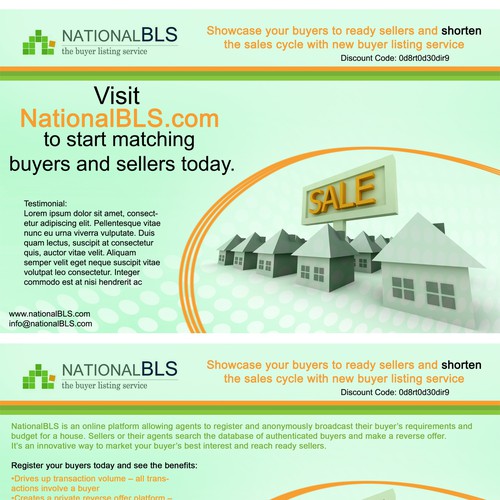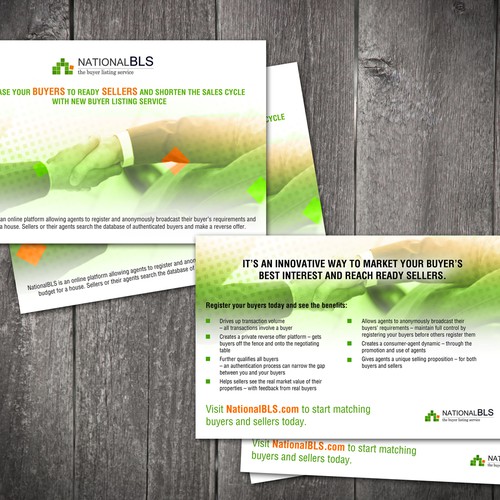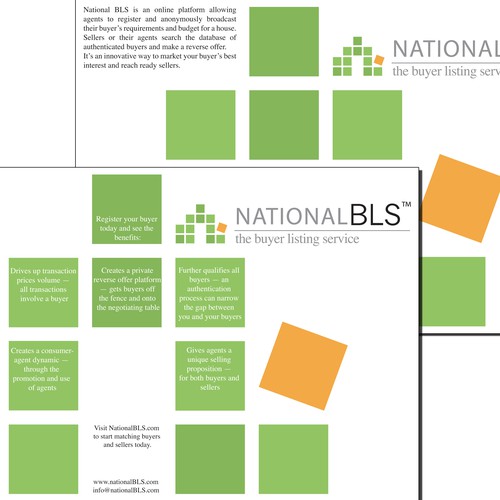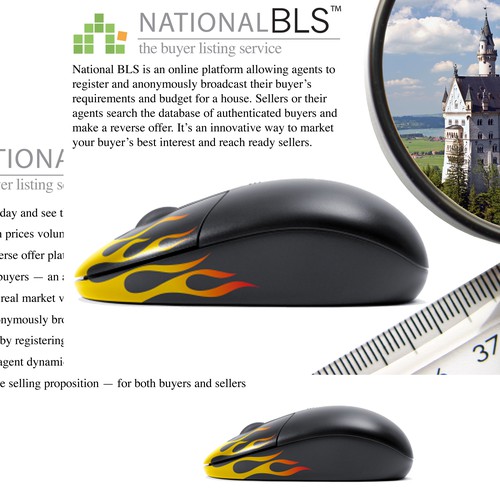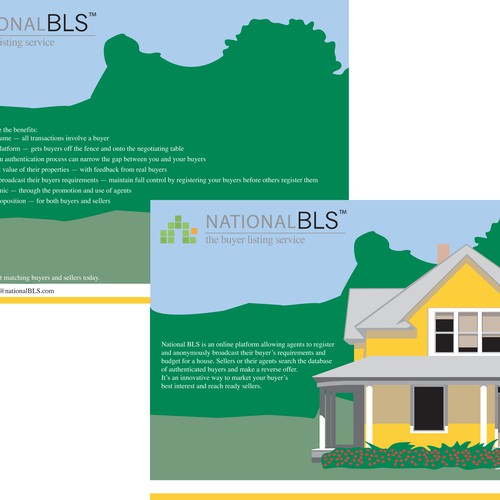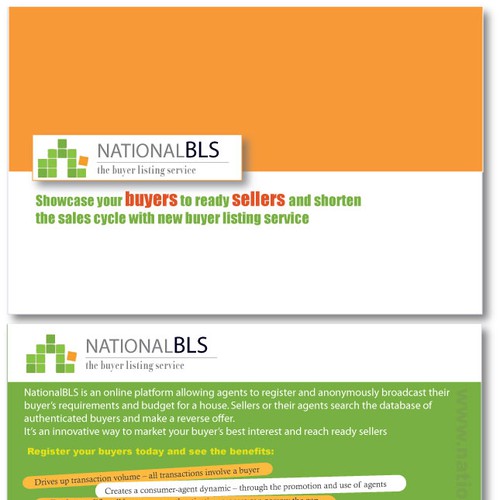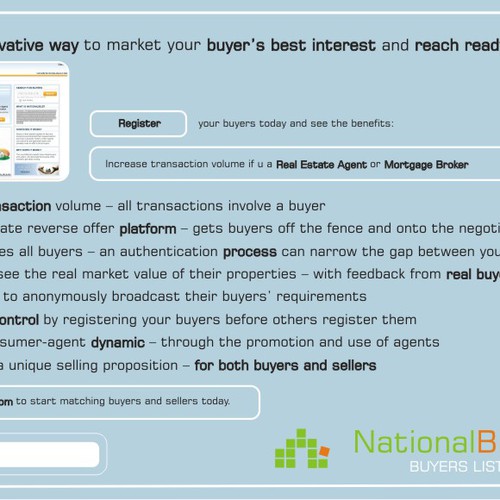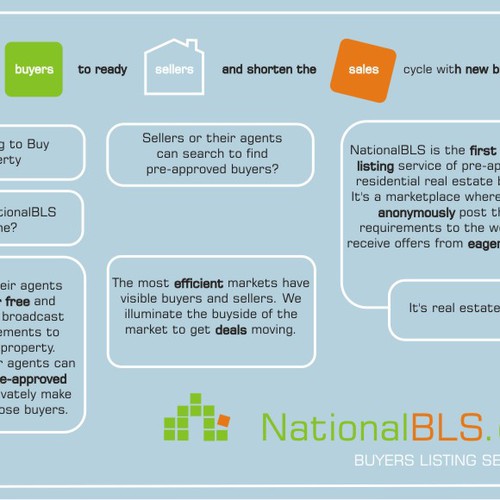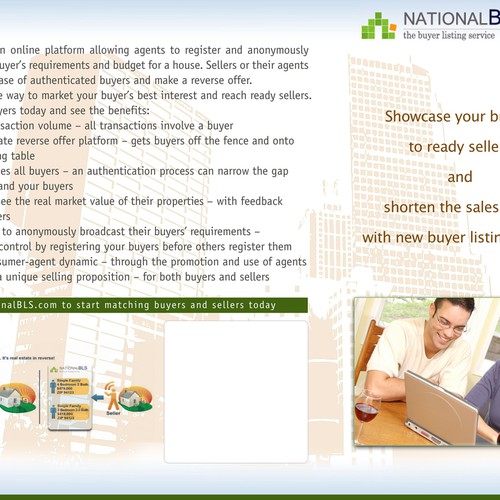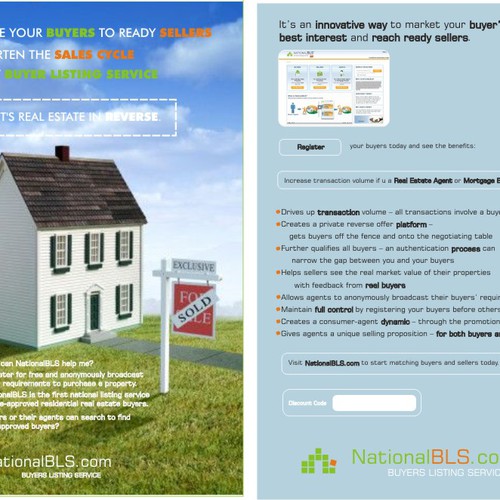 Cómo Ginny Cain comenzó su viaje en diseño de estampado o envases
Descripción general
NationalBLS.com is a startup company located in San Francisco. They are a unique listing service where pre-approved home buyers anonymously broadcast their requirements to the web. The platform creates a marketplace allowing buyers to discover the most eager sellers and unlisted properties. Sellers can take a proactive approach to initiate a sale rather than the traditional "stand and sell" method. This national platform increases transaction volume for the benefit of agents, brokers, buyers, and sellers. For more information visit http://www.nationalbls.com.
What We Want to Accomplish:
Create a marketing handout that stands out. We want it to serve as a quick explanation of the company concept because most of the audience is not aware of it, the quick benefits of the service to the industry and agents/brokers, and a call to go to the company's web site to at least get more information and potentially sign up for the service. These will be used as hand outs at the Start-Up Alley and potentially as the president comes off the stage and through the audience after the stage presentation, and with any casual introduction.
Specifications: Unspecified size; depending on the way the copy lays out, it can any size that someone is able to take away in a purse or briefcase. Prefer 8 ½ x 5 ½ or smaller. Color two sides.
Cuéntanos a qué tipo de público quieres llegar
The client, NationalBLS will be taking part in a trade show which will have over 1,000 attendees. The company will occupy a small kiosk for two, two-hour periods of time. Attendees will be invited to participate and frequent the first two-hour session, called Start-Up Alley. The second two-hour period will be during a welcome cocktail reception, called Cocktails@Connect in the same area at a later time. The president of the company will also get time on stage in a general session called LaunchPad one day of the conference.
The company just recently had a soft launch. They have had some recognition among the attending audience (real estate brokers, agents, mortgage industry people and other real estate technology service providers), but nothing extensive. The conference organizers have sent out several email messages that have referenced NationalBLS as being part of the Start-Up Alley and on the conference web site there is one paragraph which describes the company and contains a link back to the company's web site. This is the extent exposure the company has had to the audience.
Requisitos
Headline:
Showcase your buyers to ready sellers and shorten the sales cycle with new buyer listing service
Copy:
NationalBLS is an online platform allowing agents to register and anonymously broadcast their buyer's requirements and budget for a house. Sellers or their agents search the database of authenticated buyers and make a reverse offer.
It's an innovative way to market your buyer's best interest and reach ready sellers.
Register your buyers today and see the benefits:
•Drives up transaction volume – all transactions involve a buyer
•Creates a private reverse offer platform – gets buyers off the fence and onto the negotiating table
•Further qualifies all buyers – an authentication process can narrow the gap between you and your buyers
•Helps sellers see the real market value of their properties – with feedback from real buyers
•Allows agents to anonymously broadcast their buyers' requirements – maintain full control by registering your buyers before others register them
•Creates a consumer-agent dynamic – through the promotion and use of agents
•Gives agents a unique selling proposition – for both buyers and sellers
Visit NationalBLS.com to start matching buyers and sellers today.
Creative note: leave blank space/white box for writing in discount code
http://www.nationalBLS.com
info@nationalBLS.com
Destacados gratis
Concurso abierto

Ronda rápida
Hemos encontrado algunos concursos similares que podrían interesarte