Website Design - Exciting Nonprofit Fundraising Site
Mike999958 tuvo su nuevo diseño de página web a través de un concurso de diseño: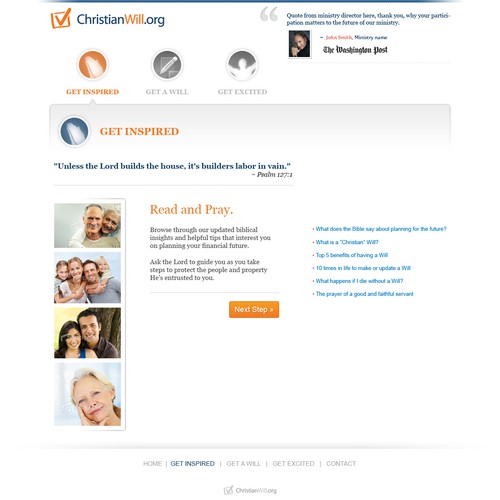 de Anachronox
Website Design - Exciting Nonprofit Fundraising Site
Hecha un vistazo al concurso de Diseño de página web de Mike999958
We help Christian nonprofit organizations promote estate gifts, in other words, donors including the charity in their Will. This is a new "product" launched by an established consulting practice.
We have reserved www.ChristianWill.org and have placed a very rough mock-up there. This is a new brand launched by an established consulting firm but this web site will stand alone. Our intention is for every is to create a customized web page for each client that subscribes to the service. In other words, the design you create will be used by many nonprofits, each with their own customized web link off the ChristianWill.org domain.
Sitios web de inspiración
1. 99designs. I really like their very professional, clean, simple, easy to understand and read design. prominent video explanation tells you it's only minute), get started now button, like the "as featured in" with logos from credible organizations, like the other detail and links at the bottom, set off by grayish background 2. elance. Again, clean simple direct layout. like how the tabs are very simple calls to action, ie find work, find talent, like the typestyle and size of those tabs too, Like the Large green headline with medium gray explanation text followed by bullets, like the get started button and note it's free, like the in the news with credible organization logos, like the video but this one is too little and too low on the page, also like easy access contact info for questions 3. Netfix. Netflix has less appeal from a design standpoint than the others, but more so from a functionality standpoint....they've obviously been hugely successful so can't argue with success :-). I like the easy prominent call to action with the one month trial, like the prominent benefit headline with the bullet points at the top left, like the we will not sell or rent disclaimer by email sign up * Other reference sites I'd like you to quickly scan for design ideas that I like (upscale image, bold clear words, easy navigation, professional but simple, good call to action) are http://www.rightnow.org; http://www.directlaw.com/, http://uservoice.com, http://www.taskrabbit.com; http://sendgrid.com; http://www.invisionapp.com; http://www.quibids.com/, and
The notes below are also attached in the documents section, title Christian Will 99 Design Notes. You may find it helpful to use those notes as they contain formatting and highlights for easier reading. HERE ARE THE DETAILS ON THE 4 PAGE LAYOUT DESIGNS WE NEED…… PAGE DESIGN 1 - HOME PAGE I created a very rough mock-up home page at www.christianwill.org using Yahoo SiteBuilder. I'm not a web designer (which will be obvious when you see the mock-up! :-) but this will give you the general idea of what I'm looking for as far as concept and layout. I will be contracting with another organization to create a 1 minute video, so for now want the design to have a prominent and professional looking video placement similar to what 99designs did on their home page. In addition, are there other elements/design ideas you would recommend to give the home page a clean, simple, super professional look and feel? We have listed other web sites below in the 99designs form of sites we'd like you to review to get a feel for the typestyles, type sizes, design elements, layouts, etc that we like. IMPORTANT NOTE: the 4 elements on the home page that we want to be able to easily customize on our own in Yahoo site Builder for each nonprofit client we serve are: 1) the photo of their director/president, 2) the quote from their director/president, 3) the nonprofit logo underneath the director/organization name (not pictured in the mock up, please insert a mock up logo), and 4) the contact number/email of the nonprofit below the Get Started Now button. PAGE DESIGN 2 - GET STARTED PAGE(S) We need one basic layout design for the "Getting Started Page" that can be used for 3 different pages - 1) Get Inspired. 2) Get a Will and 3) Get Excited. Ideally, we'd appreciate it if you could show us what those 3 pages will look like based on the one foundational design concept. For all 3 "Get Started" pages: • At the top of all the Get Started pages, I'd like the user to see all 3 steps listed, with the current step/page they are on highlighted in orange (and the other steps/pages grayed out) like 99designs does at https://99designs.com/launch#/category [note they have 4 steps, but you get the idea] • Have a simple compelling graphic that corresponds with each "Get Started" step, with all 3 graphics looking distinct but related (for example, would like all real photos or all animated graphics but not a blend of both). For "Get Inspired" let's go with something like hands folded in prayer...for Get a Will let's go with something like an official looking document and a pen...and for Get Excited let's go with something like a microphone, megaphone, or bullhorn, telephone - something that conveys we're now that our Will is done we're telling others about it. For these design elements and for the whole web site, we want to convey this is easy, "fun", exciting….but without crossing the line and looking amateur, or too young and hip……in other words we need to look solid and trustworthy and important - while also engaging the emotions of regular people (which is so often lost on lawyer/Wills web sites where the tone is often very serious, factual, etc. • The basic layout for each of the 3 pages would be the main body of text on the left with helpful links in a right sidebar • The ChristianWill logo and Director/Photo/Quote/Logo should remain constant on all pages. The ChristianWill logo comes up a little fuzzy when I shrunk it down in Yahoo Site Builder....can you upload the original from 99designs for a cleaner image? (the logo file is attached below). • These pages should also have the navigation links, copyright, and disclaimer (from the home page) on every page. • Once you have the basic layout for the "Get Started" pages, here are some specific customizations we need for each of the 3 sub-pages: (Get Inspired, Get a Will, Get Excited) [GET STARTED PAGE #1] Get Inspired! (title + graphic). [Once someone hits Get Started on the home page, the Get Inspired landing page is the first step.] "Unless the Lord builds the house, it's builders labor in vain." Psalm 127:1 [highlight this verse at the top] Read. Browse through our updated biblical insights and helpful tips that interest you on planning your financial future (maybe an arrow or something to make it obvious we're talking about the content listed and linked to the right of this copy) Pray. Ask the Lord to guide you as you take steps to protect the people and property He's entrusted to you. [RIGHT NAVIGATION BAR LINKS] positioned to the right of the Read/Pray copy above) Read (heading just above article links below. I will supply article text later. Want to be able to do that using the Content pages template (see PAGE DESIGN 4 below). What does the Bible say about planning for the future? What is a "Christian" Will? Top 5 benefits of having a Will 10 times in life to make or update a Will What happens if I die without a Will? Adding a child called Charity to your family Your biggest ministry impact – ever! Pray (heading on right...link to prayer article below) The prayer of a good and faithful servant [GET STARTED PAGE #2] Get a Will (title + graphic) "Unless the Lord builds the house, it's builders labor in vain." Psalm 127:1 There are two easy and affordable ways to make a God-honoring Will: 1. Go Online. See why so many people are now going online to get a Will for under $70 in less than 30 minutes. Here are three of the largest, most trusted leaders in the "online Wills" field. We do not recommend any particular site, offer but provide this list as a free source of information to be used at your discretion: US Legal Forms [hotlink] is the company Christian financial counselor Dave Ramsey recommends. They have been rated the #1 Legal Forms Product 6 year in row, have over 1 million satisfied customers, and have been featured in Forbes, Los Angeles Times, USA Today, Washington Post, Associated Press and CBS News. Wills start at just $39.95. They also provide an "Ask a Lawyer" service (hotlink) for $15.95 if you need a legal question answered. Would you please prayerfully consider including [ministry name] in your US Legal Forms Will? You can include us in section 3 under "Special Bequests". Questions? Call 1-877-389-0141 or email (hotlink). LegalZoom [hotlink] has served over one million customers - and 94% of them would recommend them to friends and family. Wills start at $69. Co-founded by attorney Robert Shapiro, LegalZoom has been featured in the Wall Street Journal, the New York Times, USA Today, Huffington Post, and endorsed by major radio hosts such as Sean Hannity, Dennis Miller, Laura Ingraham, and others. Would you please prayerfully consider including [ministry name] in your LegalZoom Will? You can include us on the "Heirs" page (Source: LegalZoom). Questions? Call (800) 962-7490 or email (hotlink). Nolo [hotlink] has been a pioneer in the field of plain English, do-it-yourself legal forms - serving people like you for over 40 years. In that time, Nolo has produced over 20 million legal guides across all areas of law, including the creation of software for Quicken WillMaker, which has sold over 2 million copies. Wills start at $59. They have also been featured in numerous media, including the New York Times, Women's Day, Yahoo! Finance, ABC News, AARP, The Wall Street Journal, and many more. Would you please prayerfully consider including [ministry name] in your Nolo Will? You can include us under Step 3 under Main Bequests. (Source: Nolo). Questions? Call (800) 728-3555 or email (hotlink). 2. Go to a Christian attorney with our 4-step Christian Wills Guide already filled out. [NOTE: would like a simple book cover image designed and displayed here that would hotlink to our fill-in-the-blank page, #3 page listed below and attached in documents section. Cover image should feature title "Christian Wills Guide: 4 Easy Steps to a God-Honoring, Money-Saving Will……photo image of a multi-generational family (ie grandparents, parents, kids) and ChristianWill.org logo below.....hotlink the cover image and the "Christian Wills Guide" reference in the header above to the Page 3 fill in the blank guide. If you do not know a Christian attorney(bold), you can contact our office for a referral [hotlink to ministry email address] or check out our state-by-state listing of Christian estate planning attorneys [hotlink to a page listing] provided by the Christian Legal Society. Or check with your pastor and friends for a referral. If you have a Will, but want to simply include [ministry name], click here. [hotlink to here] [Right Navigation Bar/Links] Read (heading on right....list links to articles below) Why ChristianWill.org? Who will take care of the kids? How much should we leave for the kids? How do I leave a charitable bequest to a ministry? Are online Wills safe? Is an online Will right for me? What if I have questions along the way? Where can I find a trusted Christian estate planning attorney? Wills Q&A Glossary [GET STARTED PAGE #3] Get Excited! (title + graphic) "Unless the Lord builds the house, it's builders labor in vain." Psalm 127:1 Your did it! Tell your family about your plans and experience the joy and peace that comes from God, knowing your house is in order! Tell your family. Be sure your loved ones are aware of your plans and the prayer and love that went into them. Christian financial counselor Dave Ramsey recommends creating a Legacy Drawer [hotlink to Legacy Drawer] to give your family easy access to your Will and other important financial information if you aren't around. Tell [ministry name] (optional). If you included [ministry name] in your Will, we'd appreciate it if you'd send us an email [hotlink to ministry] to let us know so we can appropriately thank you and honor your gift intentions. [Right Navigation Bar/Links] Read (heading on right....list links to articles below) How to bless your family with a Spiritual Will What does the Bible say about leaving a legacy? How do I start a Legacy Drawer? Building a Family Stewardship Philosophy Other tax-smart giving solutions Best stewardship resources PAGE DESIGN 3 - CHRISTIAN WILLS GUIDE FILL-THE-BLANK FORM PAGE(S) See "Christian Wills Fill in the Blank Guide" (attached) PAGE DESIGN 4 - CONTENT PAGE(S) Would like to create a template page that we can copy and paste over and over again on our site to insert text for various articles (such as the ones listed above) or other information we want to add as we go. The Content template page should be branded with ChristianWill.org logo, ministry director photo/quote/title/logo, bottom navigation links, disclaimer and copyright info, and anything else you feel would enhance the professional look and feel of the page For the template, please design how an article would look on this page. A sample article is below…..want to see hot title and article look. We will customize with lots of our own articles along the way. Keep right navigation bar intact on the Articles/Content pages [sample article] What does the Bible say about planning for the future? You may have heard someone say, "That person is so heavenly minded, they're no earthly good." The Bible teaches that the opposite is true: that we're no earthly good unless we're heavenly minded. Notice what the Bible has to say to help us be "heavenly minded" with our finances: Be diligent to look and plan ahead. Go to the ant, you sluggard; consider its ways and be wise! It has no commander, no overseer or ruler, yet it stores its provisions in summer and gathers its food at harvest. How long will you lie there, you sluggard? When will you get up from your sleep? A little sleep, a little slumber, a little folding of the hands to rest- and poverty will come on you like a bandit and scarcity like an armed man. (Proverbs 6:6-11) Realize that circumstances do change. Now listen, you who say, "Today or tomorrow we will go to this or that city, spend a year there, carry on business and make money." Why, you do not even know what will happen tomorrow. What is your life? You are a mist that appears for a little while and then vanishes. Instead, you ought to say, "If it is the Lord's will, we will live and do this or that." (James 4:13-15) God uses hard times to shape us. Dear friends, do not be surprised at the painful trial you are suffering, as though something strange were happening to you. But rejoice that you participate in the sufferings of Christ, so that you may be overjoyed when his glory is revealed (1 Peter 4:12-13). Be generous with those in need in good times and bad. Freely you have received, freely give (Matthew 10:8). What good is it, my brothers, if a man claims to have faith but has no deeds? Can such faith save him? Suppose a brother or sister is without clothes and daily food. If one of you says to him, "Go, I wish you well; keep warm and well fed," but does nothing about his physical needs, what good is it? (James 2:14-16) Remember our true home is not in this world but in heaven. "Do not let your hearts be troubled. Trust in God; trust also in me. In my Father's house are many rooms; if it were not so, I would have told you. I am going there to prepare a place for you. And if I go and prepare a place for you, I will come back and take you to be with me that you also may be where I am. (John 14:1-3)
IMPORTANT REMINDER: OUR OBJECTIVE IS TO CREATE A VERY PROFESSIONAL, SIMPLE, EASY NAVIGATION WEB SITE THAT CAN BE UPLOADED VIA YAHOO SITEBUILDER SO THAT WE CAN DO BASIC CUSTOMIZATIONS/EDITS OURSELVES (IE CLIENT PHOTOS, TESTIMONIAL QUOTES, AND LOGOS). WE HAVE NO WEB/HTML EXPERTISE BUT ARE VERY COMFORTABLE WITH THIS TOOL. AUDIENCE - The readers of this site will be donors of US based Christian nonprofit organizations, primarily in their 40s, 50s, and 60s. Household income is 50K-100K. Audience is a blend of male and female, skewing more towards female. They are very interested in family, their faith, and their future impact. They are busy, web savvy, generous, servant hearts, and need to trust before they act. LOOK AND FEEL - Most information about Wills and estate planning is boring! (dry, factual presentations). We aim to change that and so want to connect with people's hearts and emotions with this site - engage them with color and images that communicate joy, passion, and excitement without crossing the line and looking too young or trendy (which would be interpreted by this audience as untrustworthy). We're going for very professional (trust), simple bold and clear (easy to use), fresh and contemporary, and above all else, aimed at a simple call to action - to include a ministry in your Will. LOGOS - I've attached several "As featured in" logos....not sure if you can fit them all in but we can try.....if you can only fit 4 or 5 go with Dave Ramsey, USA Today, Wall Street Journal, CBS News and Associated Press......whatever you do please lead with Dave Ramsey on far left......also noticed that some sites display all the "as featured in" logos in dark gray....I like that if you can do it.
Toda categoría de diseño tiene precios flexibles para todos los presupuestos. Diseño de página web comienza en $599.
Derechos de autor completos con archivos listos para producción para impresión digital y / o impresión.
Todo comenzó con un brief de diseño.
Una guía rápida e interactiva le ayudó a comprender su estilo de diseño y capturó exactamente lo que necesitaba en su diseño de página web.
Mike999958 colaboró con diseñadores para refinar sus ideas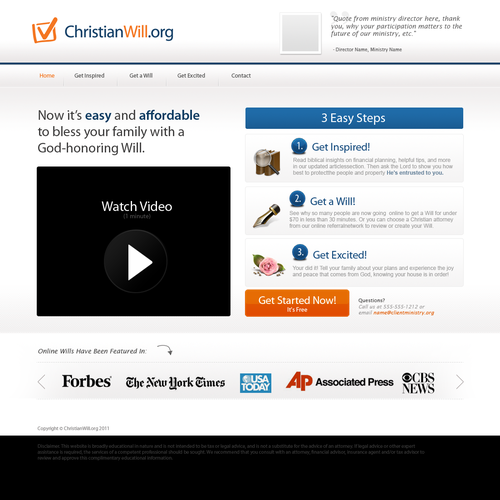 Califica los diseños
Cuando entran las entradas de diseño, puedes calificarlas para que los diseñadores sepan lo que estás buscando en el diseño de tu logotipo.
Aporte feedback
99designs tiene excelentes herramientas de colaboración para que puedas identificar y capturar tus ideas
Y luego ... ¡seleccionaron un ganador!
Evaluaciones del cliente
4.8 promedio de más de 40,000 clasificaciones del concurso de diseño
En el camino, se encontraron con muchos diseñadores talentosos ...
Creemos que los concursos son una forma súper divertida de obtener diseño.
Concursos terminados recientemente:
Mira otra inspiración de diseño de página web