Acerca de
8+ years experience in Illustration. Specializing in Book Cover Designs , Scene Illustrations, Photoshop Designs, Promotional and Advertisements. Working primarily in Adobe Photoshop and Procreate.
Me: Introvert , gardener, workaholic, the patience of a saint :).
Styles: Chaotic, Stylish, Sparky, Eye Candy —anything but corporate stuffs.
If you like what you see drop me a line and we can discuss your upcoming project!
País: India.
Miembro desde: 18 de julio de 2016
Opiniones
"They were absolutely amazing in adjusting the cover formatting/size into different formats with very different spine width/dimensions. The hardback, large print and audiobook covers were designed to IngramSparks/ACX standards. They were able to complete..."
annafinchauthor
"This design is absolutely amazing! It perfectly conveys the genre and it fits well amongst traditionally published books in my category. The designer listened to my feedback and edited/improved the file for printing. They went above and beyond what I ex..."
annafinchauthor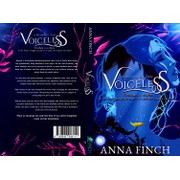 "I was able to give a general idea of what I wanted and then was able to fine tune by giving details with the artist. Fantastic!"
rtdouglass