Acerca de
A passionate senior art director associated with advertising industry for past more than 15 years. I've handled giants like Pepsi Co., Unilever and have almost worked on every sector from telecom, FMCG, automotive, Banking, pharmaceutical, real estate etc.
In my career I have handled great pressure of work with tight timelines and delivered quality of work on time.
Miembro desde: 24 de enero de 2021
Opiniones
"OUTSTANDING DESIGNER. VERY GRATEFUL HUMANS LIKE THIS EXIST IN THE WORLD."
Charlie jB
revisado hace 3 meses
The Little Giant
respondido hace 3 meses
"Emran is a talented and professional designer who came up with a number of unique designs for our packaging contest that suited our brand image and were very different from the other entries. He was very responsive and accommodating in making changes b..."
triviacult
revisado hace 5 meses
The Little Giant
respondido hace 5 meses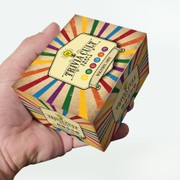 "It was really pleasant to work with him. Already the first design proposal coincided with my idea and so the further collaboration to refine the design was quite smooth. It should be emphasized that he also brought very good ideas with explanation of t..."
Mostrillo
revisado hace 7 meses
The Little Giant
respondido hace 7 meses