Acerca de
I am an internationally-bestselling author and multiple Bram Stoker Award Finalist. As an indie author, I do all my own cover designs, and I enjoy putting my knowledge of the marketplace to work in crafting book covers for myself and others that create interest and help sell your books in today's crowded market.
More about me at my website WrittenInsomnia.com.
País: Estados Unidos.
Miembro desde: 04 de febrero de 2018
Opiniones
"Definitely went outside the box with the design. It is not only eye catching - but it tells the reader the premise, it's about the evolution of a boy into a man who winds up a contract killer. Highly recommend Michaelbrent Collings for design work. "
Robert-U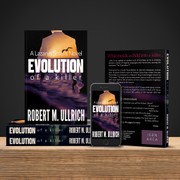 "Loved working with this designer. Michaelbrent came up with the design; all I did was tweak it a bit. The creativity and thoughts behind his idea that he transcribed from the brief was amazing. I had no idea that my cover would turn out to be so dynamic..."
kimshursen